10 Year Wedding Anniversary at Wrigley Field
3 September 2010
No Comment
Two years ago the Ultimate Sports Wife and I attended the Cubs game at Wrigley Field for our eighth wedding anniversary. That game was a night game but the eight-year anniversary is not a major milestone.
This year we also spent our wedding anniversary at the Cubs game but this time around it was our 10th anniversary. However, there is no way we would have attended if the game did not fall on a Friday afternoon. So, in that case, the game time was a blessing. Also, I could make the excuse of getting out of work early since it was my 10-year anniversary.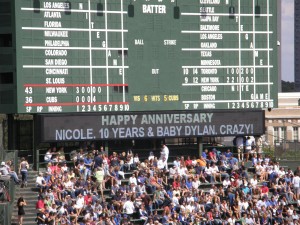 New York Mets at Chicago Cubs
The Cubs held on for a 7-6 win over the Mets as Alfonso Soriano and Blake DeWitt each had a three-run home run.