Cedric the Entertainer: Athletics at Cubs
It was a beautiful night for a baseball game at Wrigley Field after a rain filled and poor Cubs performance the previous night. The Cubs defeated the Oakland Athletics 6-2 as Cedric the Entertainer sang the seventh inning stretch.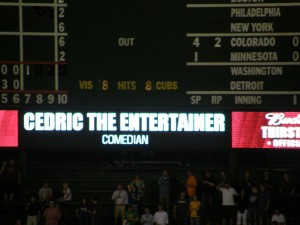 The highlight of the night was Alfonso Soriano sacrifice bunting for the first time as a Chicago Cubs player and the first time in four years.