First Rain Delay of the Season: Athletics at Cubs
I normally judge how much rain Chicago gets based on the number of rain delays and postponements during the season. Last year I "went" to four postponed games and two games that were rain-shortened (which doubled my rain-shortened game attendance). That was the most postponed games I have "attended" in any season.
Tonight, the Cubs game versus the Oakland Athletics was delayed by rain for 101 minutes. And, while I do not keep track of rain delayed games, this was my first delayed game this season. The game did not start until 8:46 pm. In fact, the game on this Tuesday night last year was postponed versus the Chicago White Sox.
Pre Game Dining
Before the game I went to Pauly's Pizzeria located at 3515 N. Clark St. for a quick slice (actually two slices) of pizza. After that snack, I went to Chens (located across the street at 3506 N. Clark St.) since they had $3 Sapporo drafts before the game. As I was sitting there the rain came. So rather than sit there until the game started, I walked home in the rain to wait out the rain delay.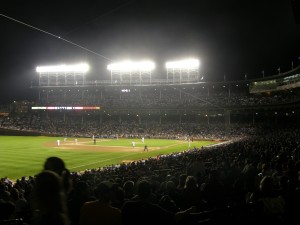 Oakland Athletics at Chicago Cubs
After an outstanding performance on Sunday night, the Cubs played sloppily and lost to the A's 9-5. Derrek Lee committed back-to-back errors in the A's four-run fourth inning and Tyler Colvin committed another two in the A's three-run seventh inning.