Cubs Tickets are Officially Dead: White Sox at Cubs
One would expect tickets to a Saturday afternoon game between the Chicago White Sox and Chicago Cubs at Wrigley Field to be expensive. But, the Cubs and White Sox are playing subpar baseball this year so tickets were much less than I expected (last year tickets were cheap due to the fact the Crosstown Series was played during the week).
As the Ultimate Sports Wife and I left the house after the game started, one scalper was offering his tickets for half-price. Another scalper we walked by had about eight tickets left. Although we already had our season tickets in hand, I realized that Cubs tickets are priced too high for this season and will be much less than face value for the foreseeable future outside of Wrigley Field.
Chicago White Sox at Chicago Cubs
Once again Carlos Silva was brilliant for the Cubs. But, Mark Buehrle was more brilliant for the White Sox as the White Sox won 2-1. Silva received his first loss of the season and is now 8-1.
The Cubs fell eight games under .500 for the first time since June 5, 2007 – the same year which they won their first of two consecutive NL Central division titles.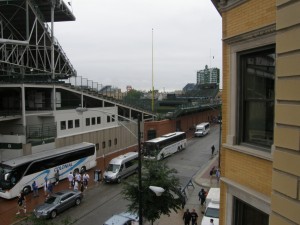 Post Game
For the first time the Ultimate Sports Wife and I went into the new Sports Corner to check it out. The first and second floors were packed, but the third floor was empty since it was raining. However, there are overhangs on the third floor so you can stand and hang out even in inclement weather.