Crosstown Cup Disappointment: White Sox at Cubs
Today was a day of firsts (all bad) for Wrigley Field. First, the controversial Toyota sign was finally erected over the left field bleachers – this can be argued to its benefit. Second, the Cubs are now playing songs as players walk to the plate – a terrible idea and should never occur at Wrigley Field. Third, this was the first game of the inaugural Crosstown Cup. Whichever team wins more games between the Chicago Cubs and Chicago White Sox claims the cup until the next season.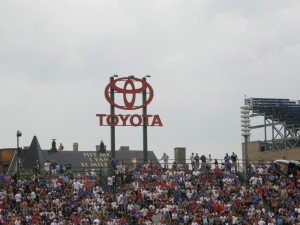 The fourth was just disappointing. The game was delayed for 23 minutes. According to ushers it was to allow fans who were unable to get to the ballpark on time because public transportation was snarled due to the Chicago Blackhawks Championship parade and rally earlier in the day in downtown Chicago (the media wrote that it was because of a threat of rain but there was no rain). This caused hype that the Stanley Cup Trophy would appear during the game. And, before the game, the Cubs trotted out a trophy stand behind home plate which caused excitement in the crowd – so much excitement that the crowd started cheering during the national anthem which is a tradition at Blackhawks games at the United Center.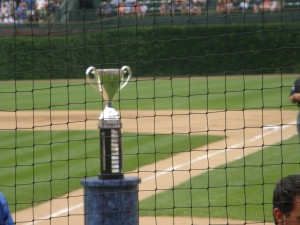 In my opinion, the crowd immediately started booing once they realized the trophy stand was not for the Stanley Cup but for the Crosstown Cup! The media wrote that people were booing BP who is the title sponsor for the Crosstown Cup – although there was really no association between BP and the cup.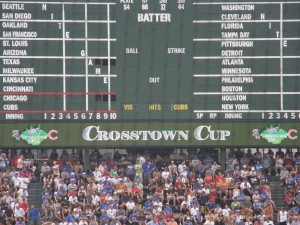 Beg, Borrow and Deal
My uncle was planning to use my season tickets for today's game. Thus my Dad and I needed to buy two tickets. I originally planned to by SRO tickets but as we were walking to the main Wrigley Field box office we ran into a scalper who had two tickets in Section 17 Row 3 (six rows from the field behind home plate). Face value on the tickets was $112 which we bought for $95 each. I was surprised that tickets were under face value for the Crosstown Series.
I did not do a great job negotiating on the tickets, but as I write in the ticket buying guide, you will still save money buying tickets on the street rather than from the box office.
Chicago White Sox at Chicago Cubs
Not only did the Stanley Cup not show up during the game, but the White Sox pounded the Cubs 10-5 in the first game of the newly established Crosstown Cup. Two milestones were achieved during the game. Alfonso Soriano hit his 300th career home run and Jake Peavy won his 100th game.