Chicago Midway to U.S. Cellular Field: Tigers at White Sox
Landing at Chicago's Midway Airport and want to go to the Chicago White Sox game immediately? The drive should take you about 20 minutes. This was the case on Thursday afternoon as my Dad flew in from San Francisco and was scheduled to land at 1:00 pm. The White Sox game was scheduled to start at 1:05 pm so the race was on. However, my Dad did not land until 1:20 pm but since he did not check bags he was in the car before 1:30 pm.
Parking
As we exited the Dan Ryan expressway around 1:45 pm, a "scalper" had two parking passes for sale. He wanted $20, I offered $10 and we agreed on $15 – saving $8 off the unreasonable $23 price tag of parking at U.S. Cellular Field. This was the second time I have bought a parking pass on the street which is definitely an easy way to save money on the price of parking.
Beg, Borrow and Deal
As we walked from the parking lot to Gate 5 we saw Broker Ben whose "partner" had two bleacher seats – season ticket face value $30 each. The broker wanted $20 each and I offered $10 each. Since we were so late I was not sure how many more "extra" tickets would be available outside of the ballpark. Our other option was to buy upper reserved tickets from the Gate 4 box office for $20 each.
However, the broker was a complete jerk after I offered $10 each which almost caused me to kill the deal. But he agreed to $15 each so we bought the tickets.
I'm not sure why the broker was such a jerk. $10 each is a reasonable offer even before the game. Not to mention, it was 1:45 pm, the game was fast so it was already the fourth inning and if someone else wanted to pay his price he would have already sold the tickets. Supply and demand determines prices which I am sure he does not complain about when it keeps ticket prices high.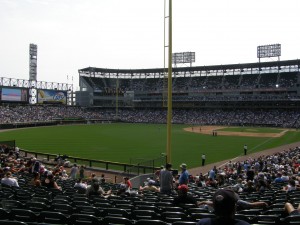 Detroit Tigers at Chicago White Sox
The White Sox took an early lead as Omar Vizquel hit his first home run of the year in the first inning. John Danks gave up one-hit in seven innings as the White Sox defeated the Tigers 3-0 in a quick two hour and 15 minute game.