Cubs Tickets are Dead: Cardinals at Cubs
Cubs' tickets are officially dead for the summer. My neighbor and I bought a pair of Cubs tickets for $30 ($15 each) without leaving our courtyard. The face value on each ticket was $70.56. Buying a ticket for so cheap to watch the Cardinals and Cubs at Wrigley Field rarely occurs, but is the main reason why I always recommend waiting to buy tickets until you arrive to the venue on game day.
St. Louis Cardinals at Chicago Cubs
The Cardinals made quick work of Randy Wells. Wells threw 16 pitches, faced six batters, gave up hits to all of them and was removed from the game. He eventually was charged with five earned runs in zero innings pitched. The six consecutive hits were the most since against the Cubs since Philadelphia tagged Bill Bonham for seven consecutive hits on August 5, 1975. Bonham set the MLB record for most consecutive hits to start a game at the time and Wells was removed before given the opportunity to match the feat.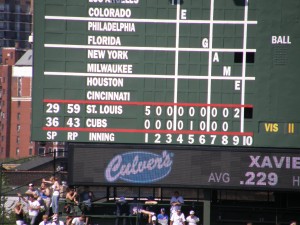 The damage was done in the first inning as the Cardinals cruised to a 7-1 win.