Bleachers for Cheap: Dodgers at Cubs
Most Cubs fans would believe that bleacher seats at Wrigley Field are expensive and hard to get. This is sometimes the case for summer games versus the Chicago White Sox or St. Louis Cardinals, but for the other 70 games or so bleacher seats are usually sold for face value or less. For example, today, I bought two bleacher seats for $40 ($20 each). The face value for today's game is $50.40.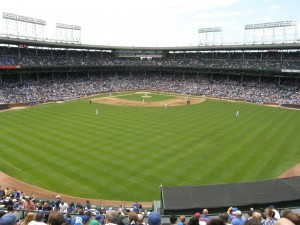 The Cubs are being tricky with their tickets this year. They "lowered" their prices for tickets but charge the 12% tax on tickets now which technically raised prices. So be careful when you buy tickets. The "official" price says $45.00 but the buyer had to pay the tax so the actual cost of the ticket is 12% higher (or in today's case $50.40).
Los Angeles Dodgers at Chicago Cubs
Today was only the 14th 1-0 game I have ever attended. The last 1-0 game I witnessed was the MLB Tie-Breaker game between the Minnesota Twins and Chicago White Sox on September 30, 2008.
The lone run occurred in the 8th inning when Cubs' Tyler Colvin doubled to right field to score Mike Fontenot.