Blackout at Wrigley Field: Dodgers at Cubs
Tonight Wrigley Field experienced a blackout for only the third time since lights were installed during the 1988 season. The first two blackouts were during the 2003 season.  The first was May 6 and the second was June 24 that year. I was out of town for both of those games so this was the first time the lights have gone out while I was in attendance.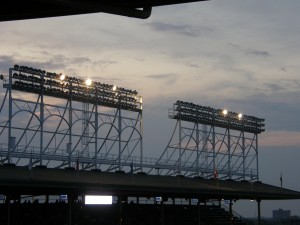 Beg, Borrow and Deal
For the second night in a row, the Cubs drew less than 36,000. Thus, tickets were easily available outside of Wrigley Field. I bought a ticket from a broker for $10 that was technically a "comp" ticket (meaning the price on the ticket is $0.00). The cost of the seat from the Cubs would have been $47.04.
Los Angeles Dodgers at Chicago Cubs
The game was proceeding excruciating slow when the lights went out in the top of the 4th inning at 8:25 pm. After the 18 minute delay the game resumed at 8:43 pm. After a lengthy 3 hours and 42 minutes the Dodgers finally defeated the Cubs 8-5.