Every Eight Years: Northwestern Baseball
For the first time in eight years I attended a Northwestern baseball game. The last time I attended (May 17, 2002) my brother was in town and we had nothing to do on a Friday afternoon. This time, my wife had forgotten something on campus. So rather than drive up to Evanston and spend five minutes picking it up, I made the trip "worthwhile" and attended the Northwestern baseball game. In addition, to give Nicole a break from our newborn son, I took him to the game.
Buying Tickets
Tickets for Northwestern baseball are $7. Infant tickets are only $1. But usually Northwestern will not charge for an infant – even for Northwestern football and basketball.
Michigan St. at Northwestern
Northwestern pitcher Erik Jokisch motored through the Michigan St. lineup as the Wildcats turned five double plays and defeated the Spartans 2-1. A total of eight double plays kept the game to a quick one hour and 39 minutes. The impressive performance was viewed by several scouts who were also in attendance.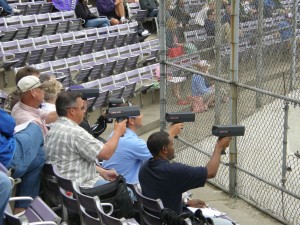 On a rare occurrence I was selected to participate in a fan promotion. I had to answer a Northwestern baseball trivia question – of course; I had no idea and was given the answer. I won a $10 gift certificate to Buffalo Wild Wings in Evanston.