The King and I: Pirates at Cubs
It was a meeting I had looked forward to for 10 years. On September 23, 2000, the Ultimate Sports Wife and I traveled to Milwaukee for a doubleheader at County Stadium. I met a guy who called himself Mr. Ballpark. He had attended a MLB game at every ballpark including all one off games. He had been to Monterrey, Mexico in 1996; Honolulu, HI in 1997 and earlier in the 2000 season had travelled to Tokyo, Japan.
While we were talking at the Brewers game he mentioned he met two guys at the games in Tokyo. He said these two guys attended 180 games per season. A feat I could not imagine attaining – especially since I was newly married at the time. However, I always wanted to meet these guys.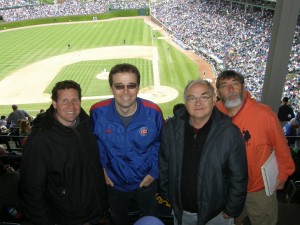 Fast forward to today when I met The King (aka Mike Casiano) and Gary Herman – the two guys I heard of 10 years ago. I found Gary Herman and his blog when he commented on Sean MacDonald's blog (another sports road tripper).
Beg, Borrow and Deal
Since I was planning to sit with Mike and Gary in the upper deck I offered a scalper $10 for a ticket. The only ticket he had was an upper deck box outfield seat (face value $44.80) which he sold to me.
Pittsburgh Pirates at Chicago Cubs
The Pirates took a 3-0 lead in the first inning and added an insurance run in the 9th inning as they defeated the Cubs 4-3.