Carlos, Sean, Carlos, Carlos: One of These Things Is Not Like The Other
It was the first night game of the season for the Chicago Cubs. It was also the Cubs first game at home since announcing Carlos Zambrano would move to the bullpen. Thus, before the game, my friend, Frank Garrett, asked if we thought we would see the Carlos trifecta pitch in the same game – Carlos Silva, Carlos Zambrano and Carlos Marmol.
Silva was the starting pitcher so we had one Carlos under our belt. After Silva pitched seven innings, Lou Piniella brought in Sean Marshall to pitch the 8th inning – much to our disappointment. At this point we thought there was no chance we would see the trifecta. But, after retiring Christian Guzman and allowing a single to Adam Dunn, Marshall was relieved for none other than, Zambrano, our second Carlos for the game.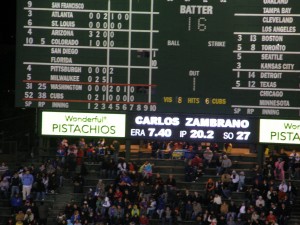 Zambrano pitched the 8th and 9th innings for the Cubs. Luckily for us, the Cubs offense was unable to score in either inning and in the top of the 10th inning Marmol came into pitch. And the trifecta had been achieved! Now that we no longer had much to root for in the game, the Cubs finally took advantage by loading the bases in the 10th inning. Brian Bruney walked Aramis Ramirez to force in the game-winning run. The Cubs defeated the Nationals 4-3.
Before the game, I met up with Paul Swaney of StadiumJourney.com at Gingerman Tavern located at 3740 N. Clark St. Gingerman is a relaxing bar to have a beer before the game since it is not overrun with Cubs fans.