Miller Lite Party Deck: Dynamo at Fire
Two weeks ago I attended the Chicago Fire game in a luxury box. For $5, I received parking, a luxury box ticket and unlimited food and drinks. A deal that is nearly impossible to beat. However, with no official "deal," I came close as close as I could to equaling that deal last night in my second visit to Toyota Park this season.
Beg, Borrow and Deal
I was already at a severe disadvantage since I had to pay $15 for parking. But, I knew I would find a cheap ticket. I bought a $22 seat for $5. My total cost for the game thus far was $20.
Miller Lite Party Deck
Two weeks ago, we received a tour of Toyota Park. Included in the tour was access to the Miller Lite Party Deck and of the backstage loading docks. This tour gave me insight on how to access the Miller Lite Party Deck if I chose to do so.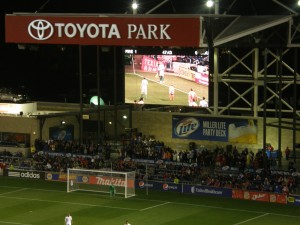 So tonight, after I entered the stadium, I immediately walked to the party deck to see if I could enter. To my surprise I did not have to use any of the "tricks" I learned two weeks ago. Instead, I walked directly into the party deck which gained me access to free food and drinks. So I immediately ordered two hot dogs and two beers without any problems.
Little did I know that the Miller Lite Party Deck stopped serving 20 minutes after the game started. So even though I did not have unlimited food and drink throughout the game as I had two weeks ago, I still know that arriving early and getting into the Miller Lite Party Deck is the thing to do when attending Chicago Fire games.
In the end, my total expense for the night was $20 which included parking, a ticket and some food.