NHL Playoffs: Predators at Blackhawks
With the Cubs game lasting 10 innings, I did not have any time at home before needing to meet Blackhawks Jim for dinner before the Blackhawks game. After the Cubs game, I went back home to meet the Ultimate Sports Wife and we were off.
Pre Game Dining
The Ultimate Sports Wife chose Carnivale for dinner before the game. Located at 702 W. Fulton Market, Carnivale is less than two miles from the United Center – meaning you will need to drive to the arena after dinner. The dinner was great although their drinks (Mojito and Caipirinha), which they are supposedly famous for, could have been much better.
Beg, Borrow and Deal
As usual I needed tickets before the game. I first walked to the main United Center box office. There I found Broker Ben and another ticket broker who I recognized. The second broker had a pair of tickets (season ticket holder face value of $60 each) which he offered for $80 each. I counter-offered $60 each and we eventually agreed on $65 each. The face value at the box office (or from Ticketmaster.com) was $75 each so I still paid less than "my" face value price.
Nashville Predators at Chicago Blackhawks Game 2
Vince Vaughn and the Chicago White Sox were in attendance for last night's game. However, I did not end up going down to Blackhawks Jim's section during intermissions so I did not have a change to take a picture with any of the White Sox.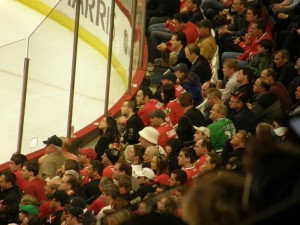 The Blackhawks won the game convincingly 2-0 behind goals from Dave Bolland and Patrick Kane and a shutout performance from Antti Niemi.