$5 Luxury at the Chicago Fire
A few weeks ago, I wrote about attending the Chicago Bulls game with students from my Masters program at Northwestern University. That night, I wrote that I had to pay more than I normally would since we were attending the game as a group.
Last night, the "group" experience benefited me greatly. This time around we were attending the Chicago Fire's home opener at Toyota Park versus the San Jose Earthquakes. However, we had a luxury box with unlimited food, drinks and parking included for only $5 – essentially free when considering all we received (of course, I was not sure if we would receive food and drinks until I was in the suite).
I arrived at Toyota Park at 5:30 pm to park in the VIP parking lot. Next we went on a tour of Toyota Park before hearing from the Mayor of Bridgeview and representatives from Corona and Pacifico. After all of the "school" talks were over, it was time to enjoy the suite. In fact, this may have been the best "suite" experience I have ever had. Most of my other experiences in a luxury box did not include food and drinks. And, if it did, it was a corporate event that had some "rules" associated with how we were to act. With only students and one instructor at this event, there was a lot more freedom.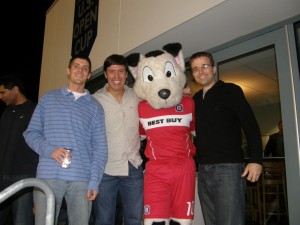 San Jose Earthquakes at Chicago Fire
A sold out crowd packed Toyota Park to watch the Earthquakes defeat the Fire 2-1. The crowd of 20,276 set a home opener attendance record for the Fire. Earthquakes' rookie Ike Opara scored the winning goal in the 81st minute.