Final Four Game #1: Michigan St. vs. Butler
One perk of having tickets before you arrive in Indianapolis is that you do not have to deal with scalping tickets before the event. Instead you can just figure out the other joys of attending a sporting event – parking and where to eat before or after the game.
Parking
When we arrived in Indianapolis, we drove straight to the parking lot that cost $3 before the Colts divisional playoff game versus the Ravens and the Big Ten Tournament. Today it was $10, but the parking lot across the street was only $7.
Pre Game Dining
In between searching for tickets, we went to eat and hang out. However, it appeared that downtown Indianapolis could barely handle the crowd that descended upon the city. Most bars had long lines to get in. Slippery Noodle Inn avoided the lines by charging a $10 cover and Jillian's was so full they would not admit anyone else for awhile.
Instead we ducked into Red Eye Café since there was no line and it was not excessively crowded. But since we did not have a table so we could eat, we moved along. We ended up eating at the Circle Centre Mall food court because everywhere else was too crowded – not the "Final Four experience" I was expecting.
After buying tickets, we had time to hang out in a bar before the start of the Michigan St. and Butler game. We walked towards Lucas Oil Stadium and went to The Whistle Stop Inn. The place was crowded but was a good place to enjoy a pre-game beer – especially given the fact it was only one block from the stadium.
Michigan St. vs. Butler
I started out cheering for Michigan St. and the Big Ten. However, as Butler remained in the game I could not help but root for Butler. I mean this is a school who competes in the Horizon League with Chicago based teams such as UI-Chicago, Loyola, Valparaiso and even UW-Milwaukee. These are schools I rarely go to because they are so low on the sporting event priority list.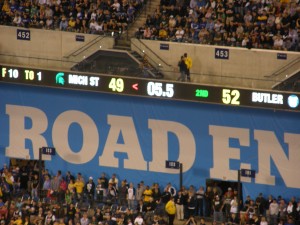 As everyone knows, Butler squeaked out a 52-50 victory and advanced the National Championship game on Monday night.