Quick Change Defines Game for Suns and Bulls
31 March 2010
One Comment
At first, it appeared the Phoenix Suns would blow out the Chicago Bulls in a game that would clinch the Suns a playoff spot in the Western Conference.  They took an early 12-point lead and were ahead by nine points at the end of the first quarter.  That quickly changed in the second quarter as the Bulls caught up and took a three point lead into halftime.
At halftime, Quick Change performed.¬† The last time I saw Quick Change perform was this winter at a Northwestern men'Äôs basketball game.¬† As usual, I could not tell how Dania (or David) changed clothes so quickly.¬† So tonight, I was sitting in the upper deck and thought I would be able to see into their 'Äútricks.'Ä̬† I moved to the last rows of the upper deck at center court to see if I could tell how they changed their clothes.¬† To my disappointment, I still have no idea how they change clothes so fast.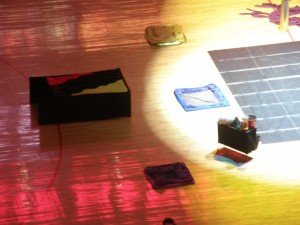 After halftime, the Bulls kept their three-point lead through the third quarter.  However, the Bulls let the lead go as Steve Nash took control late in the fourth quarter to lead the Suns to a 111-105 victory.
Tips at the United Center
1) Once again I had already bought my ticket to the game for $10.  Buying a ticket outside of the United Center for $10 can be difficult since face value for the next price point for tickets is $40.  Plus, you can sit anywhere in the upper deck so there is no reason to pay higher than $10 unless you want to sit in the lower level.
2) Once again I parked for free on Hoyne Ave. between Washington Blvd. and Warren Blvd.