$20 Ticket for Third Straight Session in Milwaukee
As was the case on Friday, I arrived close to the first tip of the first game. However, since today was a Sunday I knew I could park for free on city streets. I drove directly to Juneau Ave. where I used to park for free when I attended five Milwaukee Bucks playoff games back during their playoff run of 2002. I parked 6 to 7 blocks away from the Bradley Center on the corner of Juneau Ave. and Jackson St. – a walk that was probably too far even for me.
Beg, Borrow and Deal
Once again, I needed to buy a ticket for the session. My target price was obviously $20 since this is what I paid twice on Friday. The first scalper I talked to said "This ain't Friday" so I kept walking. I walked towards the main entrance of the Bradley Center – the corner of N. 4th St. and W. State St. Ticket scalpers on that corner were not receptive to my $20 price point either – although their price was not much higher at $30 or $40. I held out and finally one scalper accepted my $20. In the end I paid $60 total for all three sessions.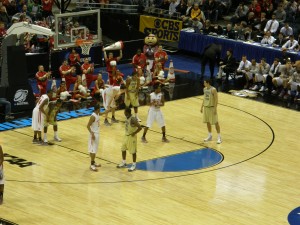 #2 Ohio St. vs. #10 Georgia Tech
Ohio St. defeated Georgia Tech 75-66 in a competitive game that saw the Yellow Jackets cut the Buckeyes lead to four-points with only 1:47 left in the game. Evan Turner missed a triple-double by one assist and one rebound.