Shuttle Ride between NCAA Tournament Sessions
When planning to attend all four games of the NCAA Tournament's first round, you need to determine where to go in between the two sessions. Milwaukee is especially convenient because there are so many bars and restaurants within a block or two of the arena.
As I wrote on Friday, I was planning to meet up with two guys I met two months ago at an Indiana Pacers game. I emailed them Thursday afternoon and wrote back stating they were planning a Fish Fry at Slim McGinn's between the two sessions on Friday. Rather than go it alone between the sessions, I thought this was a great idea.
Now, Slim McGinn's is not close to the Bradley Center when compared to all of the options near the arena. But, the restaurant is only 1.5 miles away at 338 S. 1st St. and they run a shuttle back and forth from the arena so getting there is relatively easy.
Also, they had a great special – $2.50 seasonal beers. A much better deal than the $4 or $5 miller pints bars were selling around the arena. In the end, the all-you-can-eat fish fry, set up by my new friends, was only $15.
Beg, Borrow and Deal
At the fish fry, most people were surprised that I did not have a ticket for the second session. But, of course, I never have a ticket for any game I attend. This allows me great flexibility and almost always saves me money. For example, if for some reason, I was too tired or something came up, I could drive home after the first session since I did not have a ticket. If I had a ticket, I would either lose the money I already spent or would have to attend the session since I already bought my ticket.
Plus, I save money. I took the shuttle back from Slim McGinn's and walked away from the Bradley Center to talk with the ticket scalpers. Once again, the ticket supply overwhelmed the demand for tickets. In a somewhat random occurrence, as I was crossing the street, but looking the other way, I could hear a broker yell at me repeatedly "Hey buddy!" Scalpers usually target me for two main reasons. First, I am alone – meaning they think I probably have an extra ticket since most people buy tickets in pairs. I use this same strategy when looking for a free or cheap ticket myself. Second, fans walking away from the stadium have a high probability of looking to buy tickets.
I figured this ticket scalper was yelling at me for either or both of those reasons. Once I turned my head I saw it was Broker Ben. The same broker I see outside of Wrigley Field, Northwestern football and men's basketball games, Chicago Blackhawks games and even last Friday in Indianapolis at the Big Ten Tournament. Normally I do not buy a ticket from Ben. He knows I am not willing to pay much and he also knows he can get more from another unsuspecting fan. However, tonight the market was slow. He had a single and asked how much I wanted to pay. I told him I paid $20 for the morning session and he said he would accept that – the transaction was quicker and much easier than I expected.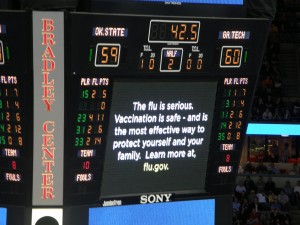 #7 Oklahoma St. vs. #10 Georgia Tech
In the best game of the day, #10 Georgia Tech defeated #7 Georgia Tech 64-59. The Yellow Jackets converted 24-of-25 from the free throw line in its first appearance in the tournament since 2007.