$20 Ticket to Session 1: #6 Xavier vs. #11 Minnesota
As I wrote on Friday, I expected tickets to be cheap in Milwaukee for the NCAA Tournament. Of course, my theory was based on my having time to walk around the arena and negotiate with several ticket scalpers. Instead, I woke up late yesterday morning and made it to downtown Milwaukee about 10 minutes before the scheduled first tip between Xavier and Minnesota.
I wanted to find a relatively cheap parking lot quickly and then buy my ticket to session one. However, I got turned around and ended up driving directly in front of the Bradley Center – which was a blessing. I saw there were several hundred tickets for sale on the secondary market – meaning I had time to find a good parking lot and walk over to the arena.
Prices for parking a few blocks from the arena ranged from $15 to $20. Not bad until I found I would need to move my car by 5 pm! I was not about to pay $30 or $40 to park for both sessions. Instead, I luckily found a lot quickly on 2nd St. in between W. Wells St. and W. Wisconsin Ave. (a five block walk) for $12 for 24 hours.
On my walk to the arena one scalper quoted me $100 for a lower level seat. Now I understand that ticket scalpers hope some sucker will accept his first offer and pay the high price. But with the number of tickets that were outside of the Bradley Center you would think a more reasonable starting price would get him a quicker sale.
I walked up to the front of the Bradley Center and offered a guy $20 for the session. He responded with $40, then $30 and as I walked away he accepted my $20. $20 for a $71 face value ticket is a great deal.
#6 Xavier vs. #11 Minnesota
Even though my ticket was in the upper level, I ended up sitting in section 216 with the guys I met in Indianapolis.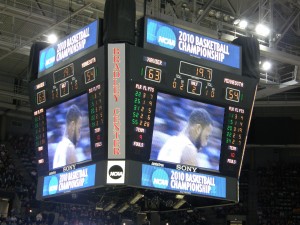 Xavier handled Minnesota with relative ease in the first game of the session as Jordan Crawford scored 28 points and Xavier won the game 65-54. The game was filled with terrible officiating. It appeared the officials were told by the tournament itself to let the players play.