Big Ten Session 3 Game 2: Minnesota vs. Michigan St.
The best part about March Madness is the second game of the session – it makes for a strange secondary ticket market and an even stranger audience in attendance. Most fans seem to just show up for "their" team's game – even though the Big Ten did charge them for the "other" game. I mean the cheapest tickets for the session were $40.
Another great part is when that game goes into overtime. The last time I attended a conference tournament, the second game of the session also went into overtime. That's when the California Golden Bears defeated the Oregon Ducks in double overtime on March 10, 2006 in the Pac-10 Tournament.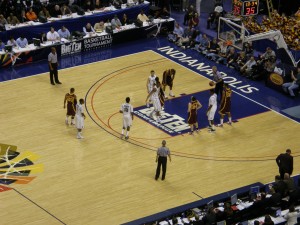 This time it was the Minnesota Golden Gophers (maybe it has something to do with the word golden) defeating Michigan St. in overtime 72-67. Minnesota held the lead for most of the game (since Michigan St. had a 12-11 lead with 9:48 left in the first half) until MSU tied the game with 1:33 left in the game. Michigan St. took a 58-55 lead in OT but Minnesota went on a 10-0 run to take a 65-58 lead on route to the win.