Senior Night: Chicago St. at Northwestern
A few weeks ago, Northwestern men's basketball was on the "bubble" of making the NCAA men's basketball tournament. However, after losing to Iowa on the road and to lowly Penn St. TWICE, it was official that Northwestern would only have a shot at making the NIT tournament.
Rather than dwell on the negative, Northwestern had a shot to win its most regular season games (19) in team history with a win over Chicago St. – not to be taken lightly after the Wildcats poor play in late February.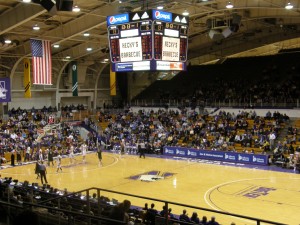 Tonight was also senior night for Northwestern's Jeremy Nash and Matt Steger. Northwestern tried to make the game interesting in the beginning as they only had a two-point lead with three minutes left in the first half. However, three-pointers by Jeremy Nash and Alex Marcotullio, helped Northwestern to a 10-point lead at halftime. Northwestern held onto the lead in the second half and cruised to a 72-49 victory and their nineteenth win on the season.
Tips & Tricks at Welsh-Ryan Arena
1) Normally I do not buy food at Welsh-Ryan Arena. They do not serve anything good. However, tonight I did not have time to eat before the game but stumbled upon the Hecky's Barbeque stand – definitely your best bet if you have to buy food at Welsh-Ryan Arena.
2) Tonight I parked on Central St. (across the street from the main parking lot). For conference games, parking is not allowed on Central St, but the city allows it for non-conference games.