Group Tickets at the Bulls = Suck It Up and Pay!
26 February 2010
No Comment
When you go to as many sporting events as I do, you eventually get to a point where you say – "there has to be some sort of degree or diploma for all the dumb stuff I know." Northwestern does actually have a Masters Degree in Sports Administration. Of course, I am being tongue in cheek here; it is actually a good program. But I cannot help but make fun of myself – at commencement while others were handing in Masters Theses entitled "The Photosynthetic Properties of the Midwestern Fern," mine was entitled, simply, "Have Game Will Travel."
Tonight, the current students (and some alumni), were taking a "field trip," of sorts to watch the Chicago Bulls host the Portland Trail Blazers. I figured that is a learning experience I can tolerate.
But tolerating it means I also need to play nice in the sandbox. Against my better judgment, I had to buy a $23 ticket in order to sit with them in the upper deck. Even though this is half-price (the group rate) of face value, this is still a bad price to pay for a Bulls game (in the upper deck). For example, last Tuesday I paid $40 for a $120 lower level seat and this past Saturday I paid $30 for a $120 lower level seat – much less than half face value. You would think the Masters students could figure this out, but sometimes when you are going with a large group and you all have to sit together you just have to suck it up.
In fact the "group rate" was not that good. They had about 10 extra tickets, but decided to buy 25 tickets since $575 ($23 x 25 tickets) is cheaper than $690 ($46 x 15 tickets). The school picked up the extra $230 but in all they actually spent about $38.50 per ticket ($575 divided by 15 tickets) and only charged the students $23.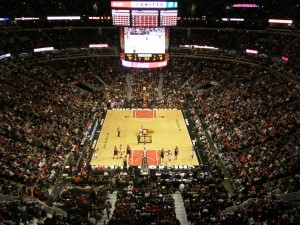 Overall, the game was exciting as the Bulls defeated the Trail Blazers in OT 115-111. The Bulls remembered Norm Van Lier and Johnny "Red" Kerr who died exactly one year ago today.
Parking Tips at United Center
Once again I parked on Washington Blvd. two blocks north of the United Center for free. That one block has no parking regulations and is across the street from an official United Center lot.