Weekday Afternoon Hockey: Griffins at IceHogs
15 February 2010
No Comment
It was a rare event – a weekday afternoon minor league hockey game. And even rarer was that it was taking place on a Monday afternoon. The game had been on my radar for awhile since it would not compete with any other sporting events. There were multiple reasons I wanted to attend this game. First, I love attending weekday afternoon games whenever I can. Second, I have never attended a game at the Rockford MetroCentre. Third, I wanted to see the Chicago Blackhawks minor league team.
I left my house in Chicago at 11:45 am and arrived in Rockford around 1:15 pm. I parked in the lot across the street from the MetroCentre for $5.
Pre Game Dining
Also across the street from the MetroCentre (and the parking lot) was the Hawk's Nest of Rockford. I stopped in for lunch since I had 40 minutes until the game started.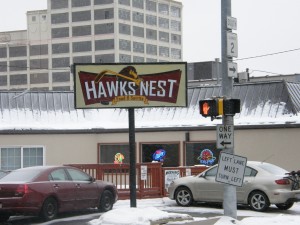 Obtaining Tickets
With no scalpers in sight, I bought the cheapest ticket I could from the box office for $12. As usual I sat wherever there was an open seat.
The Game
Grand Rapids got off to a quick start scoring 37 seconds into the game. However, Rockford matched that goal scoring later in the first period.
The second and third periods were quiet as the game headed to overtime. In overtime, Brian Connelly scored at 1:39 to give Rockford the win 2-1.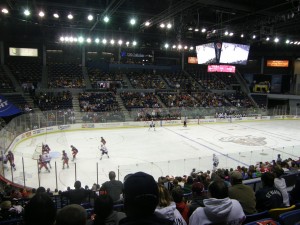 Metrocentre
The Rockford MetroCentre is like any other arena. It is located directly downtown with a few restaurants and bars within the immediate vicinity. Entering the main entrance felt like entering a movie theater – the box office was shaped similar and you went up an escalator to get to the main level of the stadium.