Last Minute Ticket: Blue Jackets at Blackhawks
14 January 2010
One Comment
One reason (of many) I never buy tickets ahead of time to games I am planning to attend is because you never know if you might get invited to the same game. On Sunday Blackhawks Jim called me since he had an extra ticket to the Blackhawks game versus Anaheim. However, since I was in Ann Arbor attending the Northwestern at Michigan men's basketball game, there was no way I could get back to Chicago in time for the 6 pm start time.
However, that bad luck probably led to good luck tonight as I received the same invite. Blackhawks Jim texted me stating he had an extra ticket to the game. This time I was in town and was already planning to attend. Instead of having to negotiate with scalpers outside of the United Center, I already had a ticket.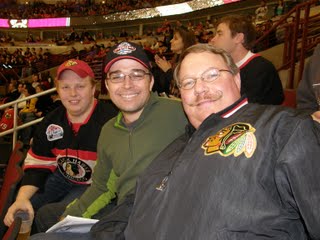 The Game
Blackhawks Goalie, Cristobal Huet, shutout the Blue Jackets 3-0. Huet made a great save in the second period as he blocked a hard slap shot from Fedor Tyutin and kept the rebound attempt by Kristian Huselius out of the net.
Tonight's game was the third straight Blackhawks game I have attended where they shutout their opponent and it is the fourth overall shutout I have seen this season. Both Huet and Antti Niemi have two shutouts while I am in attendance.
This was the Blackhawks last game at home for three weeks. They are heading on an eight-game road trip and return back to the United Center on February 3 to face the St. Louis Blues.