Alamo Bowl: Texas Tech vs. Michigan St.
3 January 2010
No Comment
The drive from Dallas to San Antonio took four hours, which was perfect timing for the 8:00 pm kick off. I was near the Alamodome at 7:30 pm, but needed to find parking. Even though I have attended a sporting event three other times at the Alamodome, I have never had to find parking for the game. I usually walk from the River Walk.
Parking
After driving past a few lots that were already full, I found a parking lot on Crocket St. that was open. For $20 I parked by the Rivercenter Mall and the San Antonio Marriott Rivercenter, which was good since I wanted to go out on the River Walk after the game.
Obtaining Tickets
I parked at 7:45 pm so I quickly walked to the Alamodome. There were not as many tickets on the secondary market as I expected. I figured this was the case since I was relatively late compared to the rest of the crowd. The first couple of guys I talked to wanted $50 for their single which was more than I was willing to pay.
I walked to the box office. The cheapest ticket available was $55. Within a few minutes, I bought a single ticket for $35 on the first level.
The Game
After a week of controversy surrounding Texas Tech's fired head coach Mike Leach, Texas Tech rallied from behind to defeat Michigan St. 41-31. It was a back and forth affair as Texas Tech led at halftime 20-14 and Michigan St. led after the 3rd quarter 28-27. Michigan St. kicked a field goal to take a 31-27 lead with 8:05 left in the game, but Texas Tech scored twice within the final five minutes to win the game.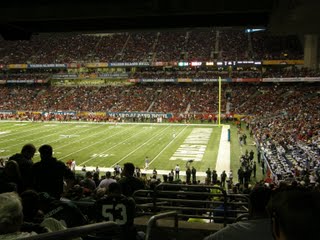 Texas Tech quarterback Taylor Potts threw for 372 yards – an Alamo Bowl record. That was before he left the game after injuring his non-throwing hand. Backup QB Steven Sheffield threw for 88 yards to lead Texas Tech to the win.
Post Game Dining
After the game I met Mr. Touchdown USA at Ritas on the River. We actually chatted during halftime of the Alamo Bowl, but decided it would be better to meet up after the game. Mr. Touchdown USA is attempting to attend 18 bowl games in 20 days – quite the feat since he needs to crisscross the country multiple times in order to attend as many games as possible. As of last night he was down to 15 games as flight cancellations and delays had caused him to already miss three bowl games. In fact, he was supposed to attend the Cotton Bowl earlier in the day but could not due to his flight.
After dinner
I was done eating "dinner" at 1:45 am. Before arriving at Ritas on the River, I stopped in at a few hotels on my way back from the Alamodome. Most hotels still had rooms available. The cheapest hotel had a rate of $99. Since I was not tired, I decided to drive as far as I could back to Dallas. I ended up pulling into a hotel in Buda, TX at 3 am – 15 miles south of Austin, TX. The hotel was only $49.