Emerald Bowl: Boston College vs. USC
27 December 2009
No Comment
There were three sporting events occurring at the same time in the San Francisco Bay Area today. First was the Emerald Bowl in San Francisco between Boston College and USC. Kickoff was scheduled for 5 pm. Second, the Golden State Warriors were hosting the Phoenix Suns in Oakland. Tip-off was scheduled for 7:30 pm. Third, the San Jose Sharks were hosting the Anaheim Ducks in San Jose. Puck drop was schedule for 7:30 pm. Since all of these games overlapped we could only pick one to attend.
The Emerald Bowl was the winner for three main reasons. First, as a rule, I try to attend the game is played the most infrequently. That was obviously the Emerald Bowl – one time per year versus 41 home games for the Warriors and Sharks. Second, the game started at 5 pm versus the 7:30 pm start times for the Warriors and Sharks. Nicole was not planning to attend any of the games but wanted to go out when I got home. Thus, it is easier to go out after a game that ends at 8:30 pm than a game that ends at 10 pm. Third, and most important, how many times do you get to see USC play in a non-BCS bowl game? Their last non-BCS bowl game was the 2001 Las Vegas Bowl.
Obtaining Tickets
In addition to attending the Emerald Bowl, I was planning to attend the San Francisco 49ers game on Sunday. We needed seven tickets for the 49ers game. Since seven tickets together are difficult to buy from scalpers outside the stadium, I decided to purchase them ahead of time. I found an advertisement on craigslist.org offering 10 tickets for sale. I agreed to buy seven tickets but the broker was located in San Francisco.
I told him we were going to the Emerald Bowl and that we could meet him in the city sometime before the game. He said he also had Emerald Bowl tickets and offered them for $25 each. Face value for the Emerald Bowl tickets was $40 and I did not believe we could beat that price too much so I agreed to buy four tickets for $100.
It turned out to be a good decision to buy tickets ahead of time as it was pouring rain when we arrived at AT&T Park. Trying to buy tickets from scalpers in a torrential downpour is not a pleasant experience – especially when your parents and brother are with you.
Rain and Our Seats
It consistently rained throughout the game. Thus, rather than sit in the seats we bought we sat down the left field line (where I sat when I attended a couple of Giants games in August). The seats down the left field line are usually empty, under the overhang (shade for San Francisco Giants games and out of the rain for the Emerald Bowl) and have a lack of ushers checking tickets.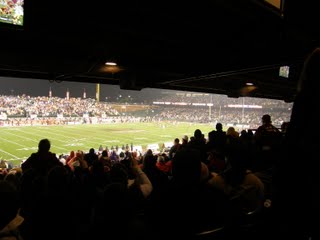 The Game
After falling behind 14-0, Boston College scored two touchdowns in the second quarter to make it a 14-13 game at halftime. However, that was the end of Boston College's scoring as USC won the game 24-13. It was USC's 32nd bowl win which broke a tie with Alabama for the most all-time.