Avoid the Wrigleyville Crowd: Lincoln Square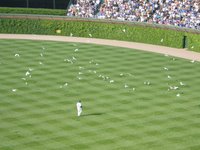 Yesterday Ryan Dempster managed to shut down the Dodgers for seven innings leading the Cubs to a 7-0 win. It was the first time all season that the Dodgers had been shutout. With a lopsided victory it is nice to have some distractions. Late in the game, a group of seagulls invaded the outfield grass of Wrigley Field as Milton Bradley and Reed Johnson had to play the field in a sea of white birds.
Post Game Dining
As I have written in the past, one great way to avoid the post game crowd in Wrigleyville and have a nice meal after the game is to head to other Chicago neighborhoods. One neighborhood that is just a couple miles from Wrigley Field is Lincoln Square. We ate dinner at Tallulah since it was linked up with OpenTable.com. There are quite a few other dining options near the corner of Lincoln Ave. and Wilson Ave.