Memorial Day Night Game: Pirates at Cubs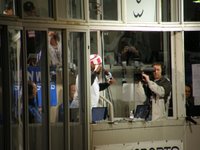 For the first time that I could remember, the Chicago Cubs played a night game on a holiday. The reason being that the Cubs had just traveled back from San Diego Sunday evening and rather than have the game start at 1:20 pm as they usually do, they chose the 7:05 pm start.
Art Institute of Chicago
As with any tourist coming to Chicago, there are other sites besides Wrigley Field that one can enjoy. With my parents in town, we decided to check out the new Modern Wing at The Art Institute of Chicago. The new wing opened on May 16, 2009 and will be the home for the museum's collection of 20th and 21st century art.
The Game
The Cubs, Pirates and umpires were all wearing red hats as part of MLB's initiative for all teams to wear red hats on Memorial Day, July 4 and September 11.
Freddy Sanchez went 6-6 leading the Pirates to a 10-8 victory over the Cubs. It was only the second six hit game for the Pittsburgh Pirates since the start of the divisional era. Wally Backman had six hits for the Pirates in 1990.
Mr. T threw out the ceremonial first pitch and sang (rather spoke) take me out to the ballgame with his best line being after the song stating "I pity the Pirates."