Women's Professional Soccer: St. Louis at Chicago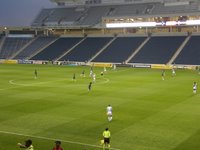 For the first time since 2003, I attended a women's professional club soccer game. Of course, there has been no women's league since 2003. In 2003, the Women's United Soccer Association (WUSA) folded after the season ended. This year, Women's Professional Soccer (WPS) began their inaugural season.
My parents landed at Chicago Midway Airport at 4:20 pm Saturday afternoon. With Toyota Park a short 4.5 mile drive from Midway, we decided to attend the women's soccer game Saturday night rather than the Chicago White Sox game.
Pre Game Dining
One restaurant I have wanted to try by Toyota Park is Grand Duke's Restaurant – located at 6312 S. Harlem Ave. on the corner of Harlem Ave. and 63rd St. By the time my parents had claimed their luggage and we drove to the restaurant it was 5 pm, so we had awhile before the 7:30 pm kickoff. Grand Duke's is Lithuanian food so we were not sure what to expect.
We started with the Fried Bread Hill appetizer – which is fried bread topped with warm cheese and garlic sauce. After about three slices, my teeth started to hurt after chewing into each slice. We ate about half of it with three people. For dinner, I ordered the Lithuanian Combo Plate while my dad ordered the Fried Lithuanian Combo Plate. The Fried Lithuanian Combo Plate was much better.
Parking and Obtaining Tickets
After dinner we drove to Toyota Park – less than one mile from the restaurant. We parked for free since I received a media parking pass when I went to the Chicago Fire home opener (but parking still costs $15 for the women's league).
As is the case with most third tier sporting events there are no scalpers to be found for the event. And since we arrived at kickoff there were no extra tickets from fans to be found. Thus, we had to buy tickets from the box office. To my utter shock, the cheapest seat in the stadium was $15. I cannot understand why the Red Stars would price their tickets that high. I always believe sports tickets for poorly attended teams should cost less than a movie – which currently costs around $10. By pricing tickets less than a movie, younger fans who are looking for entertainment options may choose to attend a sporting event rather than a movie on a Saturday night. However, the Red Stars have decided to price their cheapest seats at $15 thinking there is a demand for Women's Professional Soccer. Even though they did have a larger crowd than I expected – 4,461 – I feel they could have a larger attendance with lower prices. Although we still paid the ticket price, we may not be coming back that often.
The Game
St. Louis Athletica scored their first goal in the 25th minute and their second goal in the 41st minute and breezed to a 2-0 win over Chicago. Chicago has not scored a goal for 308 minutes.