NHL Playoffs: Blackhawks at Red Wings Game 2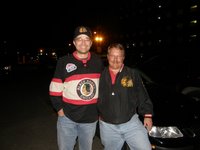 With tickets hovering around face value for Game 2 of the Western Conference Finals in Detroit, Blackhawks Jim and I decided to make the trip to Detroit. The drive, around 4.5 hours from Chicago, is possible without having to stay over. Obviously you need to leave Chicago early enough to get to the game on time and then leave immediately after the game ends so you can get back to Chicago at a reasonable hour.
Obtaining Tickets
Rather than buying tickets before driving to Detroit, we decided to wait – the game was not sold out meaning you do not have to buy tickets ahead of time as there should be extra tickets being sold on the streets outside the arena.
On the drive, I checked my usual sites – craigslist.org, StubHub and eBay. At the start of the drive, tickets were around face value. Halfway through the drive, tickets were a little below face. Towards the end of the drive tickets were a little above half-price. Of course, anything that was half-price online was an e-ticket and we obviously had no printer. I told Blackhawks Jim we would have to wait until we arrived at Joe Louis Arena. I could tell he was a little worried but having been in this position before, I had confidence we could find a good deal.
Pre Game Dining
One of Blackhawks Jim's friends from Detroit told us to go out in Greektown before the game. While driving to Greektown we found a few old pubs in downtown Detroit. We decided to try Jacoby's German Biergarten since they had a sign stating it had been around since 1904.
Parking and Shuttles
We parked near Jacoby's German Biergarten for $5. We figured we could either take Detroit's version of a subway called the People Mover or take one of the bar shuttles directly to Joe Louis Arena. As we were walking to the People Mover, a shuttle was waiting outside one of the pubs across the street. We hopped on the shuttle for a ride to the arena.
Obtaining Tickets Part 2
We found an area where some scalpers were located. Most of the scalpers were asking for face value for their tickets. However, I figured we would be able to get tickets for around half price so that is what we offered. One guy, who appeared to be a fan, had two tickets (face value $125 each). I offered him $125 for the pair and eventually settled in on $70 each (face value at the arena box office was $140 for individual game tickets so we basically achieved our goal).
Joe Louis Arena
With our tickets in hand we headed into Joe Louis Arena. Joe Louis Arena is a classic old hockey arena – one bowl that surrounds the ice. Even though our seats were technically in the "upper deck" there was no upper deck. It meant we walked up from where everyone entered in the section rather than down. Our seats were great and we avoided spending more than we needed.
Before the game we walked around the arena in search of food. We decided to eat at Cheli's Chili since we thought that was the most local fare. One note for Joe Louis Arena is that there is no beer cut off. As the game was nearing the end of regulation, the beer vendors were still walking through the arena selling beer. The only caveat is that when the game ends, you either need to drink your beer or throw it out as you cannot leave the arena with it.
The Game
For the third time this post-season, I attended an overtime game. Jonathan Toews scored a goal with 7:40 left in regulation to tie the game at 2 goals apiece. Toews first goal in the first period came on a Blackhawks power play – the 11th straight post season game the Red Wings had given up a power play goal tying the Pittsburgh Penguins who accomplished the feat in 1989.
Mikael Samuelsson score the game winning goal 5:14 into the first overtime period. It was by far the longest OT game I have seen this post season as the other games ended after 2:52 (May 7, 2009) and 12 seconds (April 16, 2009).