Bundesliga: Arminia Bielefeld at Borussia Mönchengladbach
We went back to Dusseldorf's Altstadt area before taking the train to Mönchengladbach for our third and final soccer match. While in Altstadt we saw Arminia Bielefeld fans wandering the area. Since Mönchengladbach is not mentioned in the guide books it probably makes sense to stay in Dusseldorf if planning to attend a Borussia Mönchengladbach match.
My brother, being tired of German food and multiple sausages, decided we should eat at the Italian restaurant across the way from Uerige – Ristorante La Grappa. While eating lunch, we considered the idea of attending the Dusseldorf Giants basketball game in Germany's top basketball division. However, we decided it would be better to attend the soccer match in Monchengladbach.
The train to Mönchengladbach took about 30 minutes from Dusseldorf. When we arrived at the Mönchengladbach train station, we followed the crowd to the square just outside the train station where the fans walked to their favorite pub. We ended up at the Humboldt-Schanke pub which was full of Borussia supporters.
After awhile, we decided to take the bus to the stadium since we still needed to purchase tickets to the match (before flying to Germany, I realized the match would not be sold out which would give us the option of not attending if we chose to do so). The bus to the stadium took about 15 – 20 minutes.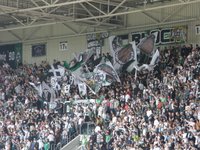 Obtaining Tickets
There were some extra tickets being sold by scalpers outside the stadium. However, their prices were high and rather than negotiating with a German in poor English we chose to buy tickets from the box office for 35 Euros each. All tickets cheaper than that were already sold out with the exception of tickets in the visiting team's section – Arminia Bielefeld. Tickets in their section were 13 Euros to stand or 25 Euros to sit. We decided it would be safer to sit in the Borussia section.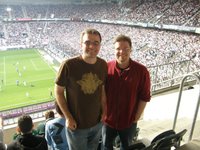 The Game
Just as was the case with LTU Arena in Dusseldorf, we needed to pay an extra Euro for our cups at Borussia Park.
Mönchengladbach took an early 1-0 in the 12th minute of play, but Bielefeld equalized in the 32nd minute. The game ended in a 1-1 draw.
Post Game
After the game we took the train back to Dusseldorf and ended up at Uerige for the second night in a row.