World Cup Qualifying: Mexico at USA
12 February 2009
One Comment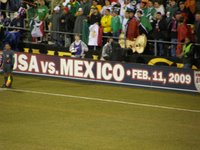 A few years ago, I started using my birthday to attend random sporting events that Nicole would never attend if it was not my birthday. In
2004
we attended the Gary Steelheads of the CBA, in
2005
we attended the Chicago Storm of the MISL and in
2007
we attended the Chicago Shamrox of the NLL.
This year was a little different in that I chose an event that was outside of Chicago and a much better event – the U.S. Men's National Soccer Team was hosting Mexico in a World Cup Qualifier in Columbus, OH. In addition, I wanted to visit my friend, John Bishop, who lives in Columbus.
A major decision when planning any trip is whether to fly or drive. My preferred travel method is by plane especially when travelling from one city to another (and even more so when I can fly Southwest Airlines). The Ultimate Sports Wife prefers the road trip. Thus, I looked up whether there would be a sporting event for us to attend when we drove back to Chicago on Thursday afternoon. There was – Notre Dame Men's basketball was hosting Louisville in South Bend, IN. With that, Nicole and I were road-tripping to Columbus.
We left Chicago at 9:30 am – much later than I had hoped. We arrived at my friend's house at 4:45 pm, got ready for the game and were at Claddagh Irish Pub, where Sam's Army was planning to pre-party before the game, by 5:15 pm.
Obtaining Tickets
While we were at Claddagh Irish Pub, the bar tender yelled out "Does anyone need tickets?" I jumped up and said we do and walked over to the two guys who had the extra tickets. They wanted face value for the tickets. After discussing with John and his friend, we decided to buy the two tickets for face value which was $48 each. I had researched ticket prices before the game and tickets were hovering around $100 each (with about half at face value). This appeared to be a good price and we did not have to worry about buying tickets outside Crew Stadium.
We left Claddagh at 6:20 pm and drove to Crew Stadium. As we walked to the stadium there were a lot of extra tickets so we probably could have gotten a much better price. But with tickets in hand we were able to spend an additional 30 minutes in the pub.
The Game
The U.S. defeated Mexico 2-0. Michael Bradley scored both goals and is the first U.S. player to score two goals against Mexico since Steve Moyer scored two on November 23, 1980 in another World Cup Qualifier.
Fans in the Stands
This was one of the first soccer games I have attended in which the fans in the stands appeared unsafe. At European matches, visiting team fans sit in a separate location away from the host team. However, U.S. matches allow Mexican fans and U.S. fans to mingle with each other. We heard many U.S. fans make racist comments towards Mexican fans and the area around Sam's Army was chaotic. It may be time for U.S. Soccer to consider giving Mexican fans a separate seating location or hold the event in more Mexican friendly cities such as Chicago, Houston or Los Angeles where the Mexican fans are not so outnumbered.
Post Game Dining
After the game we ate at Marcella's – a pizzeria and wine bar located at 615 N. High St. Although the restaurant tried to tell us the restaurant was closed, once they realized we had six people they were happy to seat us. For the nightcap, we went to Zeno's Victorian Village, within walking distance from John's house, and located at 384 W. 3rd Ave.