RBS Six Nations: France at Ireland
8 February 2009
No Comment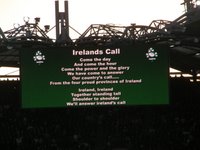 My plan for the weekend had been to fly to Dublin, Ireland from Chicago Thursday night and attend the RBS Six Nations match between France and Ireland on Saturday evening. However, those plans changed a little when my flight to Dublin was cancelled Thursday night and I was forced to fly to Dublin Friday night instead.
With an additional three hour flight delay Friday night, I arrived in Dublin at 10:30 am Saturday morning – plenty of time before the 5 pm kickoff between France and Ireland. I got through customs by 11:30 am and was at my hostel by 12:30 pm. Since, the Ultimate Sports Wife was not traveling with me I decided to book a hostel to save a few Euros. Plus, I knew I would not be in the hostel too much.
In December, I had booked the last available room at the Avalon House. I chose the Avalon House for two reasons. First, it was one of the only hostels that had a single room available at the time. Second, it was listed as the #1 hostel in Let's Go Europe for Dublin. Those two reasons made the booking easy choice (especially 50 Euros per night).
Pre Game Dining
The Avalon House would not let me check in until 2 pm. Thus, I went to the pub across the street – John Lynch / The Swan Bar. After a couple of pints of Guinness it was almost 2 pm. I checked into my room, took a quick shower, changed clothes and headed out to meet my friend, Peter Speers from Belfast, at Dakota Bar to eat lunch before heading to Croke Park for the match.
Obtaining Tickets
As stated, Peter is from Belfast, Northern Ireland. He drove down from Belfast for the match and, since some of his friends participate on Irish Rugby Clubs, he was able to get tickets to the match for face value. In this case, he bought Standing Room Only (SRO) seats for 38 Euros (for comparison, back in 2004, the Ultimate Sports Wife and I paid 125 Euros each for an Six Nations Ireland match vs. Wales). SRO in Europe is not the same as in the U.S. They have specific sections that are all SRO, rather than making SRO ticket holders stand behind seated sections.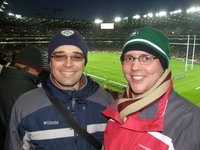 The Match
Ireland played a great game as they defeated France 30-21. It was Ireland's first defeat of France since March 2003 (or their first win in seven tries). Croke Park is the largest stadium in Ireland, with over 82,000 capacity, and is primarily used for the Gaelic Athletic Association (GAA). However, since Lansdowne Road (the main home for national rugby and soccer matches) is being rebuilt, Irish national rugby union and soccer matches have been held at Croke Park.
Post Game
After the match, we went back to Peter's hostel, Mount Eccles Court, which was located much closer to Croke Park than my hostel. After a quick nap in the hostel, we went back to Dakota Bar to meet Peter's friends since everyone knew where the pub was located. This was also fine with me since Dakota Bar was a short walk back to my hostel. Even though we had planned to change pubs, moving a group of 15 people is not easy so we stayed there for the night. With jetlag and barely any sleep, I was one of the first to leave and went back to Avalon House.