WWE Hospitality at Allstate Arena
20 January 2009
No Comment
As was the case five months ago, my friend Todd emailed me that he had a ticket for me to attend WWE Raw last night. I had planned to eat dinner at the Chili's by the arena before the event. However, Todd called me earlier in the day to say I could eat dinner in the Hospitality room between 5:30 and 7:30 pm.
Rather than pay $20 to park in the Allstate Arena parking lot, I parked in the Target parking lot (by the Chili's) as I did last time. Since I was not eating at Chili's to justify my free parking, I walked into Office Depot for 15 minutes to "shop," somehow rationalizing that this course of action would allow me to park there all night. Of course, I was being more discreet than other fans. Other fans would park, put on all their WWE gear and carry their tickets out in the open as they walked to Allstate Arena. They were obviously not as concerned as me.
I arrived at the Hospitality room shortly after 5:30, ate dinner and had a few drinks. At 7:15, Candice, Mickey James and Tiffany arrived for a photo opp. I did not bring my camera to the event so I asked a guy with a camera phone to snap a picture of me and send it to my phone.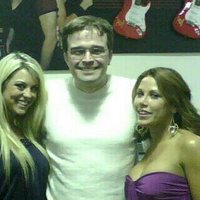 WWE Raw
At 8 pm, the event started. Last night's event seemed to have less wrestling and more talking than the event five months ago, most likely in order to increase pay-per-views for Royal Rumble on Sunday night. For example, John Cena and JBL signed a contract for their World Heavyweight Championship match, Chris Jericho had to apologize to Stephanie McMahon, and the entire crowd, in order to be re-instated for Royal Rumble (which he was), and Randy Orton, who was concerned about being fired, was slapped by Stephanie earlier in the night after treating her disrespectfully and followed that up by slapping and then kicking Mr. McMahon in the head at the end of the event which put a damper on his much anticipated return. The event ended when Vince McMahon was taken off in a stretcher after the incident.
After the event, I went back to the Target parking lot to find my car still there as it had been at the previous WWE event. It looks like I have found my "official" Allstate Arena parking lot.