Monday Night Football: Browns at Eagles
17 December 2008
One Comment
To complete the east coast trip, I planned to take the train from New York City to Philadelphia for Monday Night Football. However, this was not going to be your typical overnight trip. After taking the train and watching Monday Night Football, I planned to hang out (not stay) at the Holiday Inn until my 7 am flight back to Chicago Tuesday morning. Since Monday Night Football does not end until 11:30 pm on the east coast, I thought it did not make sense to pay for a hotel room for only a few hours. Here is the recap of my day:
New York City: 11:00 am – 2:00 pm
I wandered around Brooklyn in the morning and met my friend, Mike Nadel, for lunch at Rockefeller Center before heading to New York's Penn Station to take the 2:44 pm Amtrak train.
Amtrak: 2:44 pm – 4:00 pm
Taking the train from New York City to Philadelphia was easy. For $40.50 (with the AAA discount), I hopped on the train in New York and was in Philadelphia within 75 minutes.
Downtown Philadelphia: 4:00 pm – 5:00 pm
From the train station I walked down Market St. to City Hall. From City Hall I walked South down Broad St. In order to get from downtown Philadelphia to the Sports Complex, you need to take the SEPTA (Philadelphia's subway) Broad Street Line to the Sports Complex (officially the Pattison stop).
Pre Game Dining and Obtaining Tickets: 5:00 pm – 6:00 pm
While walking down Broad St., I stopped to eat at the Italian Bistro, located at 211 S. Broad St. There was a Capital Grille and McCormick and Schmick's along the walk, but the Italian Bistro was more casual and reasonably priced.
While eating dinner, I decided to check craigslist.org from my blackberry. The first listing to appear had the subject – "Eagles ticket tonight….FREE? – $1"
The ad read:
"Got an extra ticket, last minute cancel. I'm going regardless, but don't really wanna deal with selling it. Any real fans who can't normally afford the game want to go, maybe you can buy the first round of beers.
Text me (i'm not gonna listen to VMs) at 215??????? and I'll try to get back to you. I estimate by 6 pm the ticket will be gone, but I'm hopping offline for the evening. So texting after then not a good idea."
The listing was posted at 5:30 pm. I sent a text message at 5:37 pm. Twenty minutes went by and I had not heard anything. I figured he gave the ticket to an Eagles fan. One minute late, at 5:48 pm, I received a text message back "Sure I'll be there by 730 or 800." I clarified that meant I received the ticket, he said yes and we agreed to meet outside the Pepsi Gate at Lincoln Financial Field. The transaction was complete.
Pre Game Holiday Inn: 6:00 pm – 7:45 pm
I finished my meal and took the subway to the Sports Complex. I went directly to the Holiday Inn since I already had a ticket. The Holiday Inn (which I stayed at for a Phillies game in 1993) is located at 900 Packer Ave. and is next to the Sports Complex parking lots. I already knew Benny the Bum's Crabhouse and Bar (the restaurant in the Holiday Inn) was open until 2 am. My plan was to stay at the bar after the game until 2 am before taking a $25-$30 cab to the airport.
Since I was planning to bum around the Holiday Inn after the game, I had hoped to leave my backpack there. I did not want to take it into Lincoln Financial Field. At first, the trainee at the front desk balked at allowing me to store my luggage. However, when I walked to the "experienced" staff, they said no problem and put my backpack in their storage room.
Obtaining Tickets Part 2: 7:45 pm – 8:30 pm
I arrived outside of the security line in front of the Pepsi Gate by 8:00 pm. Of course, the guy who was giving me the ticket was late, so I waited. I became worried that he would be too lazy to actually give me the ticket, but hoped for the best. At 8:22 pm, the guy texted me – he was already in the security line so I should get in line too. For some reason, I beat him through the line and ended up waiting for him again in between the security guards and the ticket scanners.
While waiting there, an Eagles fan approached me and asked if I needed an extra ticket. Being worried my free ticket would not show up I said yes and he handed his extra ticket to me. The guy from craigslist showed up a few minutes later and gave me the ticket I was waiting for. Since the game was about to start, in addition to the fact I did not want to wait through the security line again, there was no way for me to give away the second ticket.
Ticket Selling (or giving away) Tip: If you have an extra ticket, sell it or give it away before getting into the security line. I was shocked that this guy kept his extra ticket all the way through the security line. I'm not sure how often that happens, but I would think it is very rare for someone to go through the security line and still not have a ticket.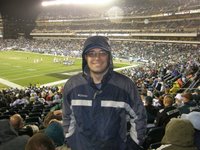 The Game: 8:30 pm – 11:45 pm
The Philadelphia Eagles defeated the Cleveland Browns convincingly 30-10. Brian Dawkins set a franchise record with most games played in an Eagles uniform. This was the first time I have watched the Browns play on the road in the regular season.
Post Game Holiday Inn: 12:00 am – 4:00 am
After the game I walked back to the Holiday Inn. I stopped by McFadden's at Citizen's Bank Park briefly enough for them to tell me they had a $5 cover and noticed the place was pretty crowded. The Ultimate Sports Wife and I ate lunch before the Philadelphia Phillies game we attended on May 20, 2007.
I got back to the Holiday Inn and it was already 12:30 am. I bought a beer at Benny the Bum's Crabhouse and Bar and hung out until the bar closed at 2 am. I was able to sit in the hotel's lobby for awhile after 2 am. I finally called a cab at 4 am and headed to the airport to catch my 7 am flight.