Edmonton Oilers at Chicago Blackhawks
23 October 2008
No Comment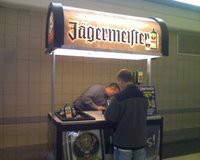 Last night the Ultimate Sports Wife and I attended the Chicago Blackhawks game. They hosted the Edmonton Oilers. One of our friends mentioned we should stop by his place before heading to a game at the United Center since he lives only a few blocks away – along the 2200 block of Warren Blvd. We parked in front of his house and stopped in. With no parking restrictions on his block and only a three block walk we chose to take advantage of the free parking and walk to the United Center.
Obtaining Tickets
As we approached the United Center we ran into a few scalpers. I offered the first scalper I saw $5 per ticket for two tickets. At first he said no, but then realized nobody else was buying and accepted the offer.
The Game
Khabibulin shut out the Oilers 3-0. It was Khabibulin's 4th shut out since joining the Blackhawks during the summer of 2005. I have actually been in attendance for 3 of his 4 shutouts with the Blackhawks – the other two coming on February 20, 2008 and March 19, 2008.