U.S. Women's Soccer vs. Ireland in Bridgeview, IL
21 September 2008
No Comment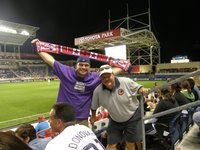 In the third game of the day, the U.S. Women's National team beat Ireland 2-0. The match set a record for the U.S. women for wins in a calendar year. They won their 29th match of the year moving their 2008 record to 29-1-1. Defender Kate Markgraf scored her first international goal in her 193rd international match (cap).
Getting to the game
We had a ride back from Toyota Park since Jim Cook's wife and friend were driving to the stadium. From Wrigley Field, we took the Red Line to the Orange Line and got off the train at Midway Airport. At Midway, we connected to the "Toyota Park Express" Pace bus which dropped us off within walking distance of Toyota Park. If you happen to miss the last bus (the last bus leaves when the game starts), grab a taxi from Midway. The stadium is about five miles from the airport.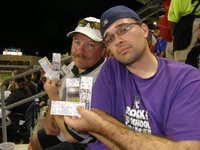 Obtaining Tickets
The group I was going with had already purchased their tickets in advance. I knew not many people would be attending the match so I waited outside of the Toyota Park box office and asked if anyone had extra tickets. One woman said she did, but thought I needed two tickets. I told her I needed one and she handed me her extra.