Ohio at Northwestern
20 September 2008
No Comment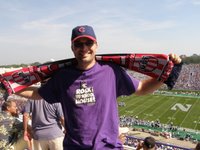 The day started at 9:15 am as I left the house and walked to the Addison el stop. In one hour, I would arrive at the Northwestern parking lot for the tailgate to begin. My friend Barbara Gorder had offered me two tickets to the game. I invited my cousin Jim Cook to join me. Little did I know Jim was already planning to attend the US Women's Soccer match later that evening.
The Game
Northwestern beat Ohio to start the season 4-0. It is Northwestern's first 4-0 start since 1962. During the game Northwestern blocked two field goals – their first blocked field goal in four years.
At halftime of the game, my friend called me stating he would be unable to attend the Cardinals versus Cubs game at Wrigley Field that started at 3 pm. I turned to Jim Cook, who was already thinking about attending the triple header with me, and without having to ask he said he would go.
As I did on August 30, 2008, we headed to the Purple line after the Northwestern game in order to get to the Cubs game in time.