Cubs Clinch the NL Central: Cardinals at Cubs
20 September 2008
No Comment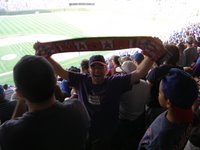 Once again we arrived at the Cubs game right on time from Evanston. We helped out with Nicole's ice skating student's lemonade stand briefly and walked into Wrigley Field.
With the Cubs magic number to clinch the NL Central division title at one, everyone in the stadium was hoping the Cubs could send Wrigleyville into a frenzy. In 2003, the Cubs swept a double header from the Pittsburgh Pirates at home to clinch the NL Central division title. That year, I went to Cubby Bear with my friends after the game. This year, I was obviously heading to Toyota Park after the game. But since the division title has been expected for the past few months (as opposed to last season and 2003), I was not as concerned with celebrating in Wrigleyville this time.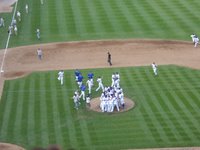 The Cardinals made the game interesting when they scored 4 runs in the top of the 6th inning to cut the Cubs lead to 5-4. But the Cubs held on to win the game and clinch the NL Central division title. It was the first time the Cubs have reached the playoffs in back-to-back seasons since they played in three straight World Series from 1906-1908.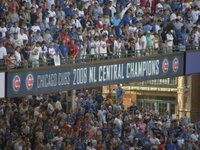 Since the game only took 2 hours and 21 minutes, we had time to celebrate in the Wrigley Field stands before needing to take the train from the Addison el stop to Chicago's Midway airport.