WWE Raw at Allstate Arena
19 August 2008
No Comment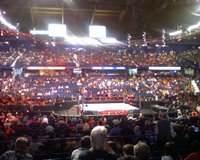 In a sold out night at Allstate Arena, the Ultimate Sports Wife and I attended the WWE Raw event on Monday night. It was only the second WWE Raw event I have been too and third WWE event overall. Our friend Todd,
newly employed by the WWE
, gave us complimentary tickets to the event so we did not have to look for tickets outside the arena. However, we did note that although the event was sold out, scalpers had stacks of tickets in hand (generally meaning fans can buy tickets for less than face value).
Before the event, Nicole and I ate at Chili's which is in the mall adjacent to the Allstate Arena. Monday nights at Chili's has two specials – 1) $12.99 Classic Fajitas for Two and 2) $2.99 Classic Margaritas. Of course, we partook in both. After dinner, we realized we could probably leave the car in the mall's parking lot rather than driving the short distance to the arena's parking lot and pay $15. We took the risk.
We arrived at the event about 15 minutes early. The event had two pre-matches before broadcasting live on USA Network. Many of the story lines had continued from what happened at Summer Slam the night before in Indianapolis. In a major announcement, Raw General Manager Mike Adamle stated that a new "Championship Scramble" match (one ring, five men and 20 minutes) would be used to determine the World Heavyweight Title bout. Some fans booed at this new format, other thought it would be intriguing.
As we walked back to the mall parking lot the car was still there. I'm not sure how they patrol the mall parking lot, but this appears to be how I will be parking at all Allstate Arena events in the future.