Nationals baseball vs. the ATP on a Sunday afternoon
18 August 2008
No Comment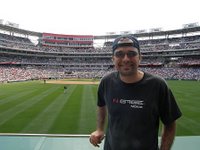 Decisions, decisions. The ATP Tour was in town with a noon doubles match and a 3 pm singles match. The Washington Nationals first pitch was at 1:35 pm. When faced with this sort of sporting event dilemma, I normally follow a few of rules to make a decision:
1) Location of the event – Nationals Park was 8 blocks from where we were staying. The Legg Mason Tennis Classic takes place in Rock Creek Park – 8 miles from where we were staying. Favors the Nationals Game.
2) Frequency of the event – The Legg Mason Tennis Classic occurs once per year, the Washington Nationals are home 81 times per year and we just saw them Saturday night. Favors the ATP event.
3) Wife's Plans for the day – Going to the ATP event would take up most of the day. Going to Nationals Park would give us time to eat dinner after the game before driving to the airport. Plus, Nicole does not like tennis. Nationals game wins based on a more enjoyable day for Nicole and location.
4) Caveat: I attended the Legg Mason Tennis Classic 10 years ago in 1998; thus, I did not feel I had to attend the tennis event this go around.
Obtaining Tickets
We walked to the ballpark from our friend's house. We had a 2-for-1 coupon in hand and were hoping to buy three $10 tickets for $20 from the box office. However, as we approached the box office, we realized most people also had 2-for-1 coupons. Both the $10 and $18 seats were sold out. We could only buy $27 tickets.
Instead of buying from the box office we bought a single for $10 (face value was $10) from one scalper and 2 tickets for $15 each (face value was $30 each) from a man who had two extras. Our total cost was $40 ($20 more than we had planned to spend), but our seats were on the first level rather than in the upper deck.
The Game
Since we had missed a pre game brunch, we decided to eat at the Red Porch (Nationals Park only restaurant) in center field. The restaurant had typical bar food and the service was really slow. The only nice thing about eating at the restaurant was that we received free water and a free refill on soda.
The Rockies beat the Nationals convincingly 7-2. It was the 10th consecutive loss for the Nationals – the longest streak for the franchise since they moved to Washington D.C. In the Presidents Race, the Presidents ran hurdles in honor of the 2008 Olympics. Inspired by Michael Johnson (Atlanta 1996) and Usain Bolt (Beijing 2008), Abe Lincoln wore gold running shoes and won the race. Teddy Roosevelt took second.
Post Game Dinning
After the game we ate dinner at Zaytinya – a Greek tapas restaurant located at 701 9th St. NW. If you like Greek food and tapas then this is the place for you.