Completion of Suspended Games
Even though I did not attend a sporting event last night, the minor league game from Tuesday night ended with the Peoria Chiefs defeating the Kane County Cougars 9-8 in 12 innings. The final 3.5 innings were played in Peoria in front of a crowd of 4,232. Although it was the first suspended baseball game I have attended, it was not the first suspended sporting event.
On December 12, 2004, the Ultimate Sports Wife and I were at Santiago Bernabéu Stadium watching Real Madrid host Real Sociedad. With 3 minutes left in the match, the referees waived for all the players to leave the pitch. Since Nicole and I were taking pictures in the aisle we had a head start as everyone else started to evacuate the section (the picture shows how high we were sitting).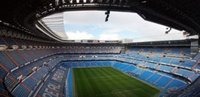 The stadium was evacuated in about 10 minutes as ETA (a violent separatist organization in Spain) had phoned in a bomb threat on the stadium. Nicole and I walked 5 miles back to our hotel as we did not want to take the subway because of an attack that might occur there. The match resumed on January 5, 2005.