Kane County Cougars and a day with the family in Aurora, IL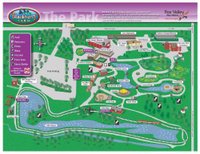 The day began with driving to my corporate summer picnic out in Aurora, IL – a 60 mile drive from Wrigley Field. In order to make the drive more worthwhile, we planned to spend the day in Aurora by visiting my wife's aunt and uncle who live there and attending the Kane County Cougars game Saturday night against the Lansing Lugnuts.
The day had all the makings of a fun family day as we were attending events that were kid friendly (minus the kid part for us). First up was Blackberry Farms and Splash Country (a small water park). Blackberry Farms with its old historical buildings from the 1800's, a carousel and a train to ride and an assortment of animals to pet, your kids will be in heaven running around the park. In addition, Splash Country (which is across the street from Blackberry Farm) has two larger water slides, a lazy river and a giant pool for the whole family to enjoy.
After the corporate picnic, we visited the wife's Aunt and Uncle where we relaxed and ate dinner. Their house was 12 miles from the farm and water park but still in Aurora.
Nicole's uncle and I went to the Kane County Cougars game which started at 6:00 pm (7 miles from their house). I had looked online Friday and saw that all of the reserved seats were sold out. Only lawn seats were left. We arrived at the park and bought two lawn seats for $8 each. Two reserved seats were available at the box office, but we had already carried our lawn chairs to the stadium.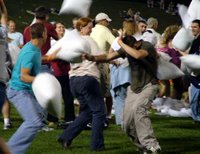 We did not stick around for the world's largest pillow fight post game – 3,872 fans took part in the 90 second event (surpassing the record of 3,648 people). The Cougars were planning to give away 4,000 pillows to any fan who wanted to participate in the pillow fight. We were 2 of about 8,000 fans who opted out of the event. The attendance of 11,810 was the largest crowd for a minor league game I have attended.
The Kane County Cougars are a bargain if you want to bring the entire family. A family of 4 can attend the game for $32 (plus food and drink). Parking was free and the lawn seats are perfect for the kids. Kids are able to run around and play with all of the other kids all in the site lines of their parents – the perfect babysitter.
The Cougars lost the game 8-2 after going down early giving up a couple of first inning home runs to the Lugnuts. While we did not have kids for our day in Aurora, we will keep the city in mind for the future.