Chicago Cubs with Brother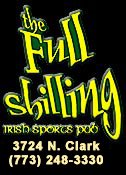 My brother flew into Chicago from San Francisco this weekend to attend two Cubs games. Ideally, he would have been able to fly out early on Friday but was unable to because of work. Thus, he took the redeye (flight takes off at 11:30 pm from the west coast and lands in Chicago between 5 and 6 am) in order to be on time for the 12:05 pm start.
Before the game we went to the Full Shilling at 3724 N. Clark St. They have a special one hour before and after each game – one free hot dog with every drink purchase. For $6, you get a 24 ounce Miller or Bud product and a hot dog. Not a bad deal.
The Cubs once again came from behind to win the game. For the second time this season, an umpire needed to leave a game early at Wrigley Field. First base umpire Brian O'Nora had to leave the game in the top of the second after hurting the back of his left leg. It appeared he injured it making a safe call, but apparently he injured it after running to the outfield the previous inning to make a ruling on a catch. Apparently umpires need to stretch too.
After taking the redeye, obviously we needed to take a nap after the game. However, if you are able, you should hit up the many festivals that occur during the summer in Chicago. This weekend is Mayfest and Belmont/Sheffield Music Festival which we will attend tonight after eating some Chicago pizza.